We have to announce a slight change to our schedule: Brian Kesinger is going to be unavailable for the Google Hangout, but do not despair, the Court has taken care of it!
On October 4th, a sunday, at 6:30pm GMT / 10:30am PDT, will be talking with Ed Greenwood. Well known for creating the Forgotten Realms world and for writing numerous books in that same universe, he's now experimenting with the world of steampunk, with The Iron Assassin. Besides still contributing to the world of Forgotten Realms with articles and others, he's an avid roleplayers, and works as a bookclerk at his city's library.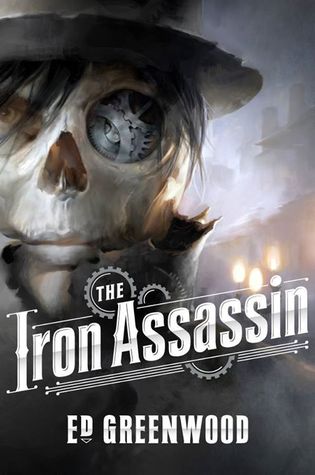 Hot pulp fiction: a steampunk Frankenstein is a weapon of death in an alternate 19th-century England

On an Earth that is not our own, Victoria never ascended the throne; the House of Hanover held England only briefly before being supplanted by the House of Harminster. It is a time of gaslamps and regularly scheduled airship flights, of trams and steam-driven clockwork with countless smoke-belching stacks. London, the capitol of the Empire of the Lion, is a filthy, crowded, fast-growing city where a series of shocking murders threatens the throne itself.

Energetic young inventor Jack Straker believes he has created a weapon to defend the Crown: a reanimated, clockwork-enhanced corpse he can control. He introduces "the Iron Assassin" to the highly placed Lords who will decide if Straker's invention becomes a weapon of the Lion—or something to be destroyed.

It quickly becomes apparent that the Iron Assassin is more self-willed than Straker intended, and that the zombie's past life is far more sinister than Straker thought. Has he created a runaway monster? Or the best guardian the Lion could ever hope for?

Bring your questions to the Hangout! On that day we'll share the links to the video on our Facebook page.